DINNER MENU
ANY TAKE OUT ORDER OVER $50 WILL RECEIVE A COMPLIMENTARY BOTTLE OF WINE 
To ensure the accuracy of your order, we ask that all take out orders be placed through our online system. A 10% Service Charge is added to every order. 
Italian Catering by Ristorante Luce is available for all of your upcoming social and business events! Choose from a variety of pre-packaged Italian dishes or create your own. Pick-up or delivery are both options for this item. Call anytime for available Italian Catering form anywhere in Hamden, Connecticut.
You can now order Luce through DoorDash! Please see the "Order Delivery" page on the left!
A P P E T I Z E RS
Cocktail
iced shrimp cocktail; horseradish cocktail sauce & lemon 16
Pizzetta
Thin oven fired pizza; creamy burrata mozza & pomodoro
15 add arugula & prosciutto 8,
Gnocchi
Pan seared house-made potato dumplings; duck confit ragu 16
Soffritto
A Neopolitan favorite. Small cubes of veal hearts simmered in a spicy pomodoro sauce 14
Seafood Crepe
Housemade crepe rolled with shrimp, scallops, calamari, & spinach; madiera wine sauce 15
Caprese
Liuzzi fresh mozza, vine ripe tomatoes, & roasted peppers. olive oil & fresh basil14
Meatballs
Baked Certified Angus Beef meatballs, light tomato sauce & Liuzzi ricotta; basil 15
Arancini
Asparagus & smoked mozza rice cakes, panko crusted; roasted pepper puree 13
Pane Cotto
Luce favorite, escarole and beans sautéed with Ciabatta bread & broiled to a golden brown 14
Broccoli Rabe
AndyBoy Broccoli rabe and Longhini sausage sautéed with garlic and olive oil 14
Mozza Fritta
Breaded mozzarella served with marinara sauce; grated parmigiano reggiano 13
Fritti
Crispy fried tender squid; marinara sauce 16 or NY style add 3
Spring rolls
chicken & arugula with parmiggiano cheese port wine drizzle  14
Mare
Sea scallops, shrimp, scungilli, and squid salad, chilled. Lemon Extra Virgin olive oil dressing 17
Mussels
Cultivated P.E.I mussels steamed in a lemon garlic sea broth with roasted fennel & speck 14
Burrata
Fresh liuzzi burrata with ripe garden tomato, baby arugula & red beet salad (sharing portion) 16
Rapini
Andyboy broccoli rabe and Longhini sausage sauteed with garlic and olive oil 14
SALADS
Luce
Baby arugula, frisee, goat cheese, dried cherries, and candied walnuts; pomegranate vinaigrette
12
Cesare
Crispy romaine tossed with our own Caesar dressing and rustic croutons
12
Mediterranea
radicchio, belgium endive, arugula tossed with E.V.O & Roland balsamic vinegar 12
Endive
Shaved endive, baby spinach, gorgonzola, candied walnuts & dried cranberries; balsamic glaze 12
Add to any salad: (3) shrimp $12 ~ 10 oz chicken $10 ~8 oz salmon $12
SOUPS  $10
Scarola con fagioli
Pasta e fagioli
 ENTREES
Gluten free pasta available $4
Misto Portofino
shrimp, scallops, calamari, clams & mussels simmered in a fresh pomodoro sauce; DeCecco spaghetti  34, fra diavolo upon request 
Vongole
Rhode Island little necks steamed in a garlic sea broth- DeCecco spaghetti (red or white)  32
Orecchiette Siciliana
longhini sausage sauteed with red bell peppers, onions , tossed with ear shaped pasta & grated parmigiano 26
Barese
pan seared house made potato gnocchi with broccoli rabe, sweet sausage, & cannellini beans; grated parmiggiano 26
Risotto
morsels of shrimp, scallops,calamari, & baby clams simmered with arborio rice in a light tomato stock  28
Penne Pollo
Julienne grilled chicken, fresh asparagus, sun-dried tomatoes; touch of cream 26
Ravioli
lobster filled pasta pillows; vodka cream sauce 28
Toscana
Fettuccine egg noodle, fresh tomatoes, peas, & diced prosciutto; light pink cream sauce 26
Gnocchi Bolognese
House-made potato dumplings, in a slow simmered veal ragout; scoop of Liuzzi ricotta 26
Sorrentino
Thinly sliced veal lightly battered, layered Prosciutto, eggplant, & mozza; light sauce and peas 28
Parmigiana
Chicken breast milanese with light pomodoro sauce; Melted mozza & side of penne pasta 26
Salentina
Boneless chicken breast, layered with proscuitto & smoked mozza; shitake mushrooms & artichokes 26
Siena
Chicken breast rolled with spinach, fontina cheese, & diced prosciutto; shitake mushrooms fresh tomato cognac sauce 27
Limone
Boneless chicken breast lightly egg-battered with wilted spinach, fresh lemon & white wine 26
Pork Chop
Grilled double cut bone-less pork chop,  Sautéed broccoli rabe or Siciliana style 29
Valdosta
Thinly sliced veal scaloppine, layered prosciutto & mozzarella; sautéed shitake mushrooms 29
Milanese
Lightly breaded veal cutlet, baby arugula salad & tomato bruschetta; dressed with extra virgin olive oil 29
Pesto
Pan-seared jumbo shrimp, tossed with fresh basil pesto, DeCecco fettuccine 29
Salmone
Fresh atlantic salmon filet blackened; asparagus risotto drizzled with basil infused olive oil 29
Bisteccha
16 oz grilled N.Y. Strip, sauteed shitake mushrooms & gorgonzola; natural demi  m/p
DESSERT
Apple Crisp 9.95
Cheesecake with fresh strawberries 10
Tira mi su  10
Chocolate mousse cake  10
Pick up, curbside, or delivery of your favorite Italian food.
Restaurant Pickup: Italian Catering
Your order will be ready to go when you receive it. Please don't hesitate to ask us for assistance in loading your vehicle. Most welcome specially for Italian Catering. 
Front Door Delivery: Italian Delivery
Directly from our kitchen to your door. Simply pick a date and time and you're ready to go.
Click Here
2987 Whitney Ave, Hamden, CT 06518
Directions
I-91 North or I-91 South
Take Exit 10 (Route 40). Follow to second exit (Whitney Avenue) and take a right at the light. Ristorante Luce will be on your right, beyond the next light.
Merritt Parkway / Route 15 North
Take Exit 61 (Whitney Avenue, Hamden). Make a right at end of ramp. Follow for seven lights and Ristorante Luce will be on your right.
Merritt Parkway / Route 15 South
Take Exit 62 (Whitney Avenue, Hamden). Make a right at end of ramp. Follow for seven lights and Ristorante Luce will be on your right.
Lunch
Tuesday– Friday 11:30 – 2:30
Dinner
Tuesday– Thursday  5:00PM – 9:00PM
Friday – Saturday 5:00PM – 10:00PM
Closed Sundays & Mondays.
Available for Sunday Private Parties of 40 or more.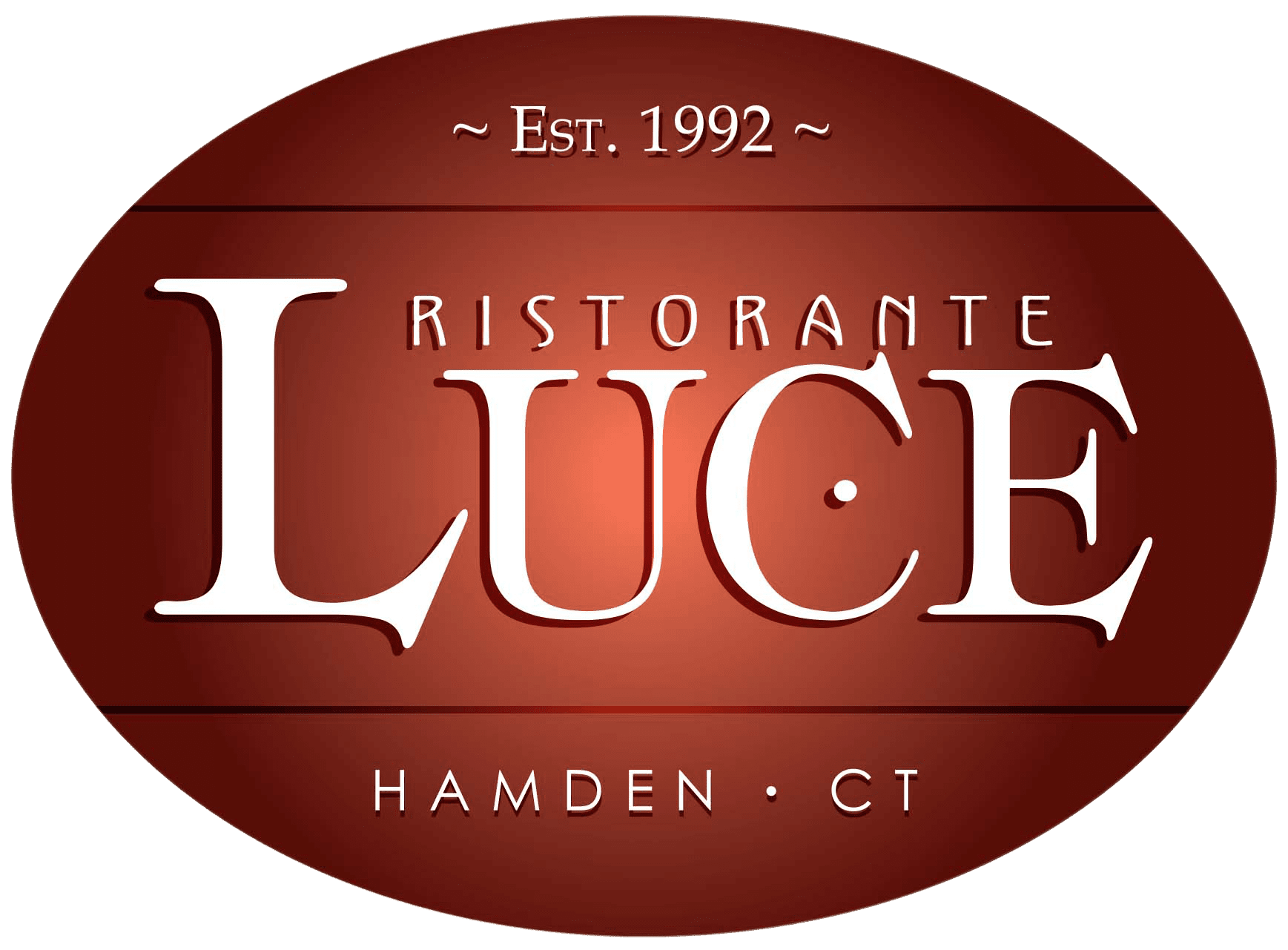 Get news from Ristorante Luce in your inbox.
Don't hesitate to contact for your party!
We do not accept reservations through our website, please call in during business hours. Thank you Luce staff