Join Us
For our Prix Fixe Menu!
Pre Fixe menu not available for parties of 12 or more.
Three Course Lunch $22 or Dinner $38 (Tuesday-Friday) dine in only
Salad Course between Appetizer and Entree
Luce Garden Salad~ baby field greens, cherry tomatoes,cucumbers & red radish, luce balsamic vinagrette
A P P E T I Z E R
Choose one
arancini
asparagus & smoked mozza rice cakes, panko crusted ; roasted pepper puree
seafood crepe
house made crepe rolled with shrimp,scallops, calamari, & spinach; madiera wine sauce
Pane Cotto
A favorite tradition; escarole and beans sautéed with bread and broiled to golden brown
Meatballs
Baked Certified Angus Beef meatballs in a light pomodoro sauce topped with fresh ricotta
Arrotolato
Spring rolls filled with baby arugula & chicken: port wine glaze
Fried Calamari
Traditional, crispy-fried, tender squid served with spicy marinara sauce
Caprese
Fresh mozzarella, vine ripened tomato, and fresh basil; with Extra Virgin olive oil and roasted peppers
Mussels
A heaping bowl of cultivated Prince Edward Island mussels steamed in a lemon garlic sea broth, smoked speck & grilled fennel. served with hard pepper toast
Cocktail
Jumbo iced shrimp cocktail; housemade cocktail sauce
Fried Mozz
Breaded mozzarella served with marinara sauce; grated parmigiano reggiano
E N T R É E
Choose one
shrimp pesto
jumbo shrimp sauteed in a fresh basil pesto cream sauce with DeCecco fettuccine
Pork Chop
double cut boneless pork chop, sauteed onions, roasted red pepper, & cherry peppers tossed with fried potatoes
Lobster Ravioli
Fresh lobster ravioli in a light vodka cream sauce
Gnocchi bolognese
in house made potato dumplings in a slow simmered veal ragutopped with riccota & basil
Veal Milanese
Traditional breaded veal cutlet, baby arugula salad, and tomato bruschetta; olive oil 
Salmone
North Atlantic Salmon filet pan blackened served with asparagus risotto
Shrimp Antoinetta
Jumbo shrimp sauteed with shitake mushrooms, sundried tomato, & gaeta olives; angel hair pasta
Chicken Parmigiana
Milanese style boneless breast of chicken with a light pomodoro sauce topped with mozzarella
Veal Sorrentino
Thinly sliced veal, egg battered, layered with prosciutto, eggplant and mozzarella; light sauce with peas
Risotto Pescatore
Morsels of shrimp, scallops, calamari and Mediterranean clams simmered; light tomato stock with Arborio rice
Chicken Limone
Egg battered chicken breast in a white wine lemon sauce; sauteed spinach & whipped potato
Chicken Siena
Chicken breast rolled with  spinach, prosciutto & fontina cheese; shitake mushroom & fresh tomato cognac sauce
2987 Whitney Ave, Hamden, CT 06518
Directions
I-91 North or I-91 South
Take Exit 10 (Route 40). Follow to second exit (Whitney Avenue) and take a right at the light. Ristorante Luce will be on your right, beyond the next light.
Merritt Parkway / Route 15 North
Take Exit 61 (Whitney Avenue, Hamden). Make a right at end of ramp. Follow for seven lights and Ristorante Luce will be on your right.
Merritt Parkway / Route 15 South
Take Exit 62 (Whitney Avenue, Hamden). Make a right at end of ramp. Follow for seven lights and Ristorante Luce will be on your right.
Lunch
Tuesday– Friday 11:30 – 2:30
Dinner
Tuesday– Thursday  5:00PM – 9:00PM
Friday – Saturday 5:00PM – 10:00PM
Closed Sundays & Mondays.
Available for Sunday Private Parties of 40 or more.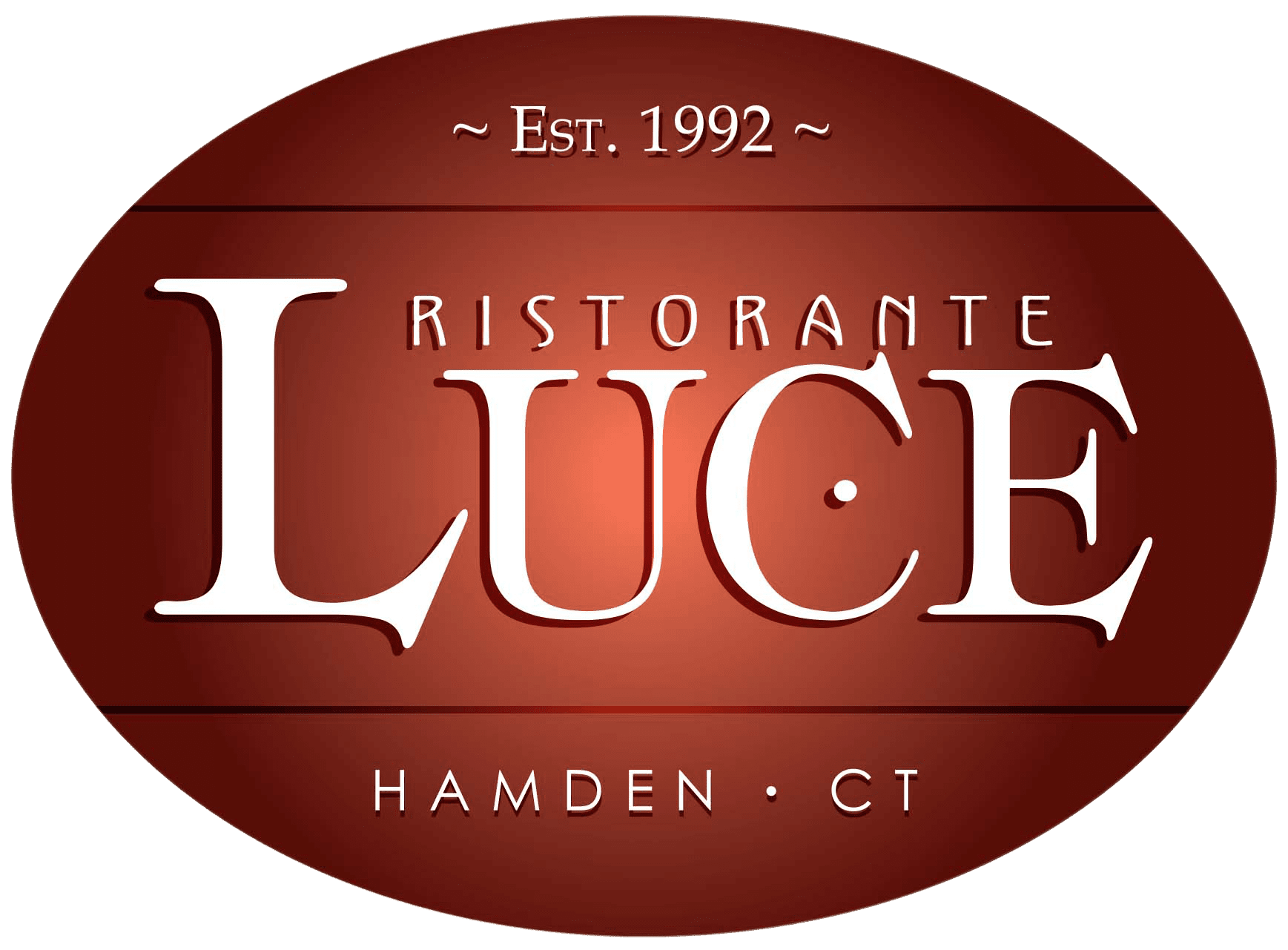 Get news from Ristorante Luce in your inbox.
Don't hesitate to contact for your party!
We do not accept reservations through our website, please call in during business hours. Thank you Luce staff